Marco Motors & Den Halse Tuimelaar - opendeurweekend 21 en 22 januari 2017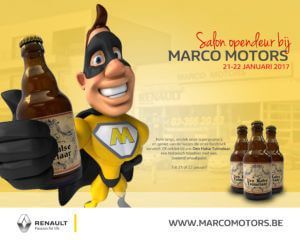 Opendeurweekend 21 en 22 januari 2017 met superkortingen en een zéér speciaal biertje.
Marco Motors en Den Halse Tuimelaar, twee familiebedrijven met een jonge ondernemersgeest. Voor de saloncondities Renault & Dacia werkten we een leuk concept uit.
Vroeger had men brood en spelen, anno 2017 is dat bier en auto's. En hoe!
Altijd leuk om een auto te kopen tijdens een opendeurweekend en tegelijk een zéér boeiend biertje proeven. Om het helemaal compleet te maken, voorzien we hierbij ook nog een hapje.
Den Halse Tuimelaar is een uniek historisch streekbier dat werd gebrouwen in 1850 in de oude brouwerij Sint-Martinus in het centrum van Halle Zoersel. Met trots is het bier vanaf 2014 terug in leven geroepen door Patrick De Feyter, de 'kleinzoon' van Ria Peeters. Het oude perkamente receptenboekje van 1822, is dan ook een groot geschenk dat hij van zijn oma Ria kreeg!! Op de kaft staat: "QUIDQUID AGIS, RESPICE FINEM" of vrij vertaald: "wat ge ook doet, hou uw einddoel voor ogen"! Met dit moto heeft Patrick De Feyter het bier Den Halse Tuimelaar voortgezet en is zijn passie bier brouwen geworden!
Een leuke anekdote die perfect aanleunt bij de huisstijl van Marco Motors. Vandaar ook onze toffe samenwerking. We willen onze klanten topkwaliteit aanbieden! Niet enkel qua product, maar ook qua kennis, passie en ervaring.
Kom Den Halse Tuimelaar samen met onze Renault saloncondities ontdekken tijdens het opendeurweekend van 21 en 22 januari.
As the saying goes: nu kopen met superkortingen of later spijt hebben. Het bier staat alvast koud!
Vergeet zeker je mailbox niet te checken, want er valt iets te winnen!